Arthur Ransome's Swallows & Amazons has been part of Sophie Neville's life for 50 years. Filming on location in the Lake District in 1973 was only the start of her adventure centred around the classic children's book.
She played Titty, one of the children having fun and adventures on the lakes, in the film that has become a classic.
Sophie has written about the experience, lectured about it and even her marriage is a result of it. In addition, she has just completed five years as President of The Arthur Ransome Society – the second largest literary society in the UK – and is a member of the Nancy Blackett Trust, which owns the yacht Ransome bought with his royalties from Swallows & Amazons.
She's also found time for a career in TV production, working on shows including Doctor Who and EastEnders as well as time living in southern Africa setting up BBC documentaries and was a safari guide.
Playing a small role as a piano-playing child in a BBC play about Laurie Lee led to the director Claude Whatham inviting her to appear in his new cinema film Swallows & Amazons. "My mother got this letter out of the blue asking if I would like to go and play Titty," she recalls.
The film was produced by Richard Pilbrow of Theatre Projects, one of the world's leading theatre consultants and stage lighting designer. "He had such a love of Swallows & Amazons and this is only film he produced," explains Sophie.
The book was adapted for the screen by David Wood, an actor now considered one of the leading writers of children's theatre, and directed by Claude Whatham, who came from directing his first feature That'll Be the Day with David Essex.
Whatham only used adults to the absolute minimum in the film because it is, after all, a story about children and their holiday adventures on the lakes. Sophie recalls that the young actors weren't given the script. "Claude had a dread of us sounding like pantomime kids. He didn't want kids from stage school, he wanted us to be natural," she says.
"We had all read the book a couple of times. Then before filming a scene Claude would take us aside and tell us what was going to happen in the scene, give us lines and speak us through it. Children pick up very quickly.
"He would make us run before doing a scene to loosen up a bit before filming a scene."
Whatham also wanted children who could sail as much of the action takes place on the water. Sophie had grown up in a house by a lake. "We had a boat and sailed on the lake. I made a sail from a dust sheet to add to an old rowing skiff. By the time the film came along I was not a great sailor but was used to being on boats. My father was keen on taking us camping too," she says.
"Simon West, who played John, and Kit Seymour, who played Captain Nancy, were really good sailors. John went on to become a national champion."
Because Virginia McKenna, who was playing the mother, wanted to film during the summer term time, the young cast were taken out of school and had lessons on location in the Lake District where the weather was, Sophie says, "pretty cold and chilly".
Not all the actors welcomed the young cast. When I spoke to Sophie she had just tweeted that on that very day in July 1973 they were filming Swallows & Amazons with a green parrot and the actor Ronald Fraser on a houseboat in Derwentwater. "He was somewhat the worse for wear and got fed up with us and threw a whole tin of parrot seed over us," she recalls.
The incident is recalled in her book The Secrets of Filming Swallows & Amazons (later reissued as The Making of Swallows & Amazons). As a writer, she began writing about the book and the film to advertise her other books. The huge response and that fact that she had kept a day-by-day diary on location led to a request to author a book about the film and filming process.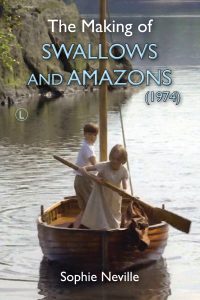 She did Q&As and book signings at cinemas following screenings of the film. She toured with talks and slide shows, sometimes at schools although the people most passionate are older and remembered the film.
When Sophie is asked how Swallows & Amazons changed her life, as she often is, she is able to tell people it led to marriage. "Because the Amazons had bows and arrows, we had to learn to shoot for the film. My mother was an archery champion and I met my husband at a bow meeting. Now my whole summer is dedicated to archery," she says.
But what exactly is it that has made Swallows & Amazons such an enduring and popular success? "Every child dreams of being, not shipwrecked, but living on an island without grown-ups. There's something in our make-up as human beings that is instinctive and innate, and children love the idea of surviving on an island and having adventures. As for sailing, some love the thrill of getting on board a boat and just by pulling a rope going really fast," says Sophie.
"Arthur Ransome really taught me to sail. He teaches you how to sail in Swallows & Amazons."
What's lovely about the play version of the book, she thinks, is the use of the imagination in approaching the adventure and exploration.
To find out more about the The Nancy Blackett Trust, click here.
For details on The Arthur Ransome Society (TARS) click here.
The Making of Swallows & Amazons is available to buy on Amazon here.
For more about Sophie Neville visit her website.
Swallows & Amazons is at York Theatre Royal from 26 July to 24 August.