We asked the lovely folk at Waterstones York to make a reading list of novels they think you'll love if you enjoyed Sarah Water's The Night Watch…
Whiskey When We're Dry by John Larison
A Western like no other, this is the story of Jess who must disguise herself as a boy in order to track down her brother. It's a tale of love and loss of both other people and oneself. There's gun-slinging action and moments of poignant reflection, creating a story that will remain with you a long time.
Transcription by Kate Atkinson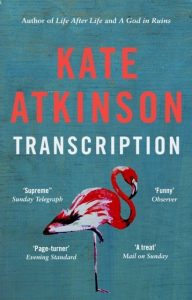 During the Second World War, eighteen-year-old Juliet is being pulled into the cloak-and-dagger world of espionage. Atkinson brilliantly crafts a tale that shows how the past always comes to find us. A spy story to rival Le Carré, full of Atkinson's usual cleverness and charm.
The Warlow Experiment by Alix Nathan
The newest and boldest piece of work historical fiction has seen for while, The Warlow Experiment is as sinister and macabre as Gothic classics such as Frankenstein and Jekyll and Hyde. Nathan works history into her novel so well, it's hard not be taken there as you read.
The Children's Book by A.S Byatt
A gorgeous and heart-breaking novel set prior to the First World War, its characters go from imaginative and excitable children, to adults hurtling towards tragedy. It explores suffrage, sexuality and growing up with sensitivity and beauty. The perfect book for lovers of stories.
The Moss House by Clara Barley
A brand new novel which explores the relationship between 'Gentleman Jack' Anne Lister and Ann Walker. Well-researched and brilliantly executed, full of local Yorkshire character.
WATERSTONES YORK OFFER
Take your The Night Watch theatre ticket to Waterstones York and get 20% off your very own paperback copy of Sarah Water's The Night Watch.
Waterstones York
15 Coney Street,
York,
YO1 9QL